Phenolic Insulations
PHENOLIC FOAM BLOCKS
Phenolic Foam is a highly efficient energy saving insulation ma-terial, with excellent thermal conductivity and fire resistance. A low thermal conductivity allows specified thermal performance standards to be achieved with a minimal thickness of insulation.
INSULEX Phenolic insulation has a superior resistance to burning and spread of flame, Achieved rating indices of flames spread 10 and smoke develop 0 in fire testing asper ASTM E 84 standards which compiles to most of the North American and European building inspection standards.
PHENOLIC FOAM INSULATION PANEL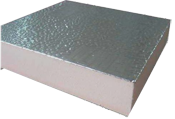 INSULEX Phenolic Foam Insulation Board comprises rigid phenolic insulation foam faced on both / single side with a protective aluminium foil, fiber reinforced aluminium foil, glass tissue or nonwovens. Phenolic Foam Insulation Board is of high thermal insulation efficiency, and it is fire-resistance. it is CFC/HCFC free, thus it is totally environment friendly.
PHENOLIC FOAM PIPE SECTION
INSULEX Phenolic Foam Pipe Sections are fire resistant pipe sections made of non-flammable, superior and rigid insulation material. Phenolic Foam Pipe Sections are cost effective and better than conventional insulation ma-terials because of various distinct properties like Low K Value, highest fire rating standards with 100% fire retardance, Correction & Chemical Resis-tance and tested as per BS standards.